A documentary movie about Italian

Explorer and Extreme Diver Luigi Casati
Production:

digitalmovie.it
Project designer:

Andrea Mescalchin
Underwater filming:

Andrea Mescalchin
Photography and surface filming:

Matteo Mescalchin
Location: Sorgente del Gorgazzo, Polcenigo, Italy
BTS photography:

Giovanni Santon
VideoEditor:

Paola Balasso
Shot by digitalmovie's filming crew over 2 different explorations back in 2016 and 2017 the documentary movie focuses on Luigi Casati's exploration of the deepest Italian cave at Sorgente del Gorgazzo. 

Beside the exploration itself in its technical and physical challenges, the documentary goes deep into the many different decisions Gigi's faced during such an extreme mission as exploring an underwater cave. From physical training to self-awareness under extreme conditions to medical research we cover a wide range of topics getting to know more about one of the most successful underwater explorer. 
Luigi Casati has been recently Awarded whit the prestigious Golden Trident 2018 by International Academy of Underwater Sciences and Techniques
Girato dalla troupe cinematografica di digitalmovie in 2 diverse spedizioni nel 2016 e 2017, il film documentario racconta l'esplorazione condotta da Luigi Casati di una delle sorgenti italiane più profonde, La Sorgente del Gorgazzo. 
Al di là della spedizione nelle sue sfide fisiche e negli aspetti tecnici, il documentario approfondisce diversi aspetti soprattutto decisionali che lo speleonauta deve affrontare nel corso di una spedizione impegnativa come l'esplorazione di una grotta sommersa molto profonda. Dalla preparazione fisica all'auto controllo e la gestione di se stessi in situazioni di stress, fino alla riscerca medica e scientifica, il documentario affronta tematiche che ci aiutano a conoscere meglio uno dei migliori speleonauti del panorama internazionale come Luigi Casati, premiato nel 2018 con il prestigioso Tridente d'oro alla carriera. 
BTS NOTES: The extensive interview leading the story from behind the scene.

"As for the interview I wanted an image look that could nicely match with a relaxed and informal atmosphere typical of many friendly chats with Gigi. Therefore I chose to arrange for a sit-down interview in the warm room at the Bar Alla Sorgente, right next to the water entrance. In order to craft the image look I was after, I had the scene lit with warm tones and some subject-driven lighting techniques with a Chimera medium sized VideoPro lightbank as a key-light and a Chimera pancake fine positioned to serve both as a backlight and ambient light for the background. Two HMIs from K5600lighitng served brightly into my modifiers completing light control precisely driven by 40°
Lighttools
 EggCrates."  - Matteo Mescalchin
"Per la scena del racconto di Gigi, centrale a tutto il documentario, ho voluto ricercare un look dell'immagine che ben rappresentasse l'atmosfera rilassata ed schietta, caratteristica comune a tutte le chiacchierate con Gigi. Quindi ho voluto costruire un set caldo ed accogliente nella sala gentilmente concessa dal Bar alla sorgente, nelle immediate vicinanze del punto di immersione. Per ottenere il look che avevo in mente ho allestito la scena accentuando i toni caldi e creando una fotografia ben guidata sul soggetto, che mantenesse l'attenzione sul racconto. Ho affidato il ruolo della keylight ad un modificatore classico ed eccellente come il Chimera VideoPro e piazzato uno dei modificatori più versatili e sottovalutati come il Chiemra pancake con il duplice ruolo di luce ambiente e controluce di separazione. Due HMI (K5600lighting joker) hanno servito con generosa potenza andando ad enfatizzare l'effetto di occlusione della key light con delle griglie di controllo 40° di Lighttools" - Matteo Mescalchin
Working with Gigi for filming is just great as no matter how you light the scene, it'll always feel totally real. This is something unique in its attitude as he is authentic as a person all the time. There's no fictional element in how he takes care of equipment or during his meditations. 
Lavorare con Gigi per delle riprese video è semplicemente fantastico perchè per quand'anche si costruiscano delle precise situazioni di luce o si programmino delle azioni, si ha sempre un intenso senso di spontaneità e realismo. Questa è una caratteristica unica e preziosa che sicuramente si riflette nella qualità del video oltre al piacere di lavorare con un uomo davvero autentico in ogni situazione, dalle fasi di preparazione dell'attrezzatura alla concentrazione prima dell'immersione.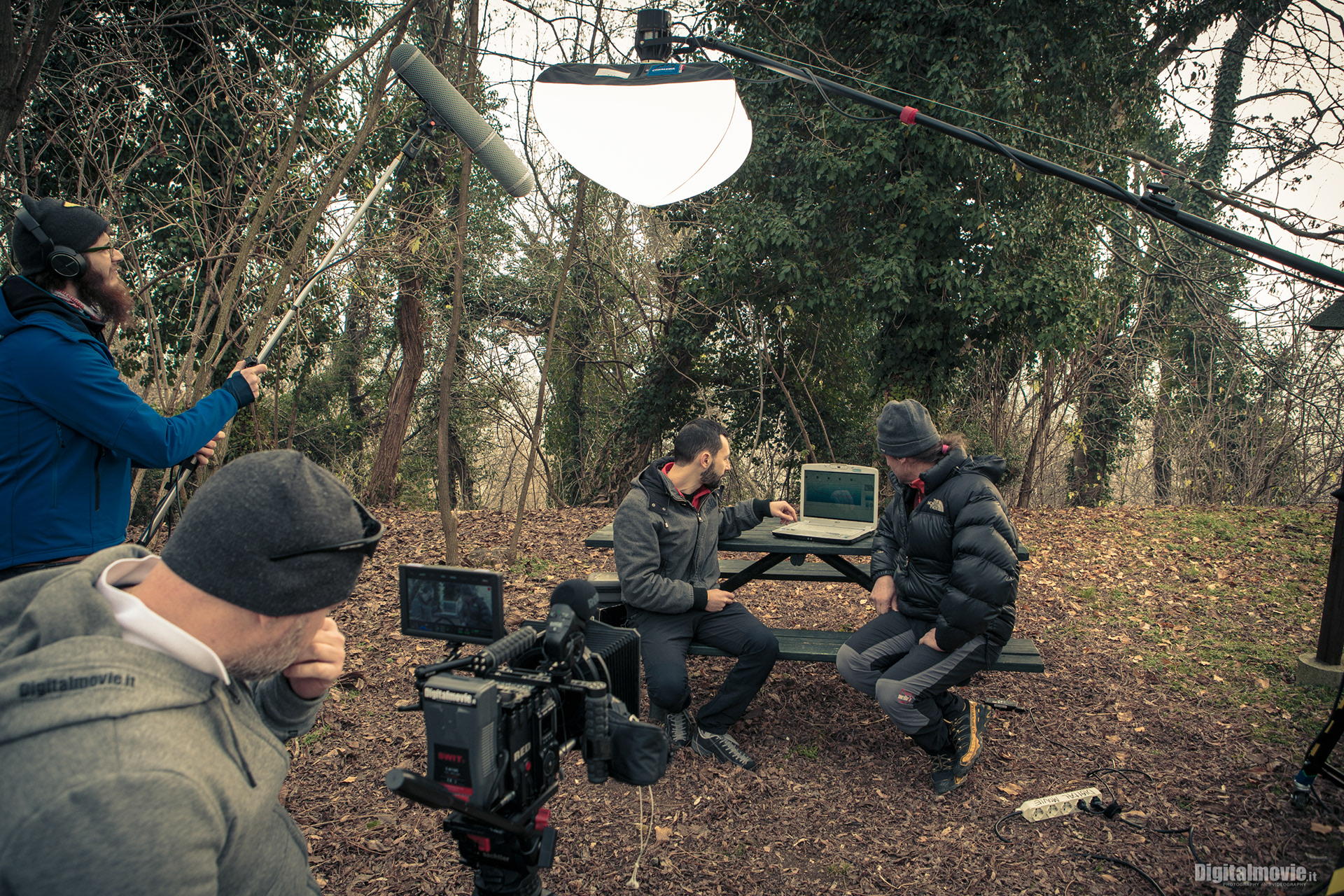 BTS note: 
Here's one of the different shooting scenarios where a nice lighting is meant to offer stylistic consistency throughout the documentary.
Una delle diverse situazioni di ripresa esterne in cui una buona gestione della luce garantisce una certa continuità dello stile del documentario.
Lighting is an essential and highly demanding part of the filming also underwater.
Andrea filmed various scenes using alternatively on-camera lights, headlight, as well as lights positioned by other team divers for selected off camera effects. 
L'illuminazione gioca un ruolo ovviamente essenziale anche nelle sequenze subacquee richiedendo molta attenzione e impiegando molte risorse. Andrea infatti ha girato scene con diverse configurazioni, dalle luci in camera alle luci montate sul caschetto ed anche in alcune sequenze con l'uso di luci appositamente piazzate da altri membri del team della spedizione. 
​​​​​​​
Thanks to our technical partners:
​​​​​​​